Luca Buzas is a Los Angeles based stylist, makeup artist and creative coordinator, who's been working with major brands for over a decade. She talks about her career and about the world of a stylist.
What did inspired you to become a stylist?
I have been in the world of creativity since I was a kid. I love to create, work with people, actors, models and make them feel confident in front of the camera. It's my ultimate goal to ensure my clients feel a sense of confidence in themselves and/or pride in their businesses.
It's been a passion of mine for so long. I've currently taken my decades of passion and have found purpose in it. For me, styling and working as a hair stylist/makeup artist is not just about making people or commercials look pretty, it's about curating unique looks and strategies that compliment my clients. Part of my vision is to coordinate looks that compliment what the brand represents.
Where did you start and how did you make it to Los Angeles as stylist?
I have had a very exciting journey since I moved from Budapest, Hungary, where I am originally from. After completing my studies at ModArt International, I moved to Asia where I began my career as a fashion designer. Soon after my move, styling and advertising jobs started to pick up which is where I created a portfolio. In 2017 I moved to Los Angeles because my work visa got approved, and I believe that was a sign for me to take my career to the next level in the United States.
What are the most important works you've done or felt have been the most rewarding?
Since I moved to Los Angeles I've worked with countless amazing brands and clients. The most memorable shoots I've done recently were campaigns for Tiffany & Co., Old Spice, Canada Goose, Wendy's, Adobe, Six Flags, Hotel Del Cornado and many more.
Is there anyone who inspired you in what you do?
Absolutely! Every season has new collections and designers who come out with great ideas so I love to get inspired from them and by their work. It keeps you moving and pushes you to get better and better at your job. Stepping outside boxes and comfort zones is very important.
How did you build your skills? School, real life practice, learning from others? What was the thing that helped you the most?
Since I love creating, that process can challenge me to find new ways to do my work so I learn a lot from every shoot and project that come my way. If something doesn't challenge you, it won't help you grow.
What does it take to become a good stylist?
In my opinion you have to look at each overall project. You have to be detail oriented but can't get lost too much in the details, what will matter is how everything comes together so you have to focus on the important, broad scope elements.
You have to have creativity, ability to imagine and great communication skills. Another important ability is to quickly spot styles, trends and to see what works for the client design-wise in the moment. It is a complex job but you learn and grow with every job.
What would be your advice to someone wants to become a stylist?
Keep working hard on your portfolio and consider completing freelance projects and work independently to style celebrities or influencers.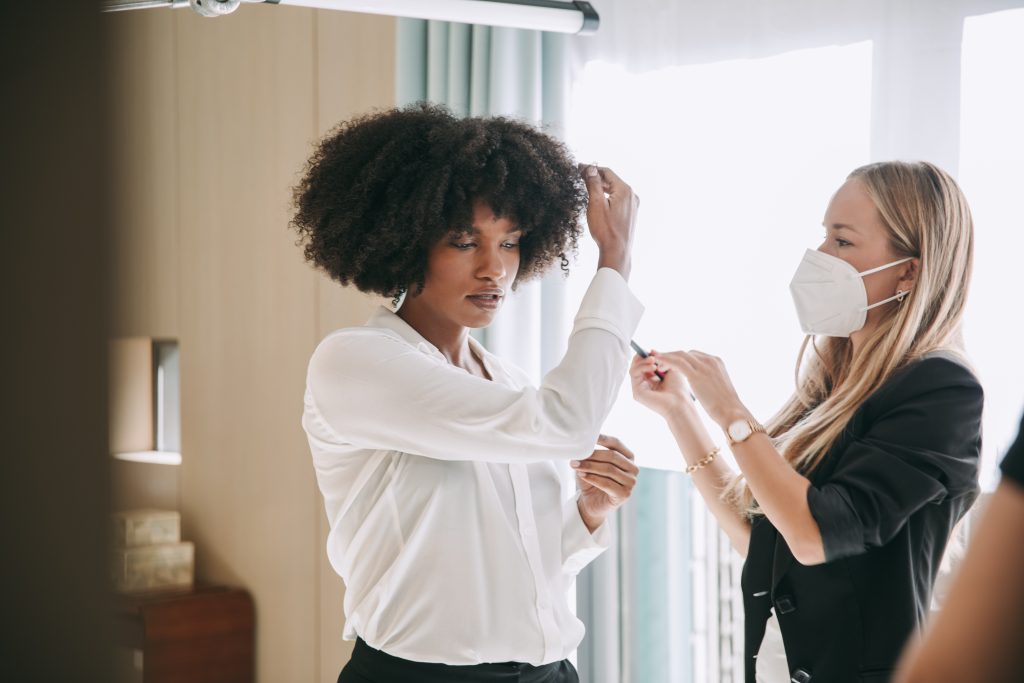 What becoming a successful stylist has changed in your life?
I love to travel and get inspired and observe the world wherever I go. I developed a strong sense for fashion, what works and what doesn't. I also pick up quickly on people, energies and what they need to feel their best on any particular shoot that I'm working on.
What is the best part of your job? What is the hardest part of it?
The 12h working days can be hard but they are always rewarding when you are working with very talented crews and you see the results in the end, online, on TV, on billboards and events.
What is next? What are your plans for the future?
I would like to keep growing within the industry to create and travel as much as a can. I love to take time for personal growth as well because I think when you are able to recharge, you can give your best energy to work and it will reflect positively on camera / the screen as well.
Anything else you would like to talk about?
I'm really excited about what comes next and to keep growing with my amazing clients, producers and photographers. It is a collaborative world, please feel free to reach out to me at any time with any questions, you can take a look at my website and can find my contact information below as well:
Website: https://lucabuzas.com/
Email: luca@lucabuzas.com
IG: @lucabuzas