Kerenor is an Israeli dancer who's unique dance style and talents brought her to Los Angeles. She is talking about her a life, career as one of Israel's top dancers of the past two decades, and about her exciting projects in the US.
How did your dancer career start?
I was very young when my teachers at school in South Israel, noticed my unique dance talent. That time I actually didn't know anything about dancing, I just heard music and had my way to move for it… moving to music somehow came very naturally for me. The school sent me to a special exam where they wanted to evaluate and observe my real abilities. In the end, they recommended me to attend Talma Yalin, which is the best art school in Israel. My parents took me to Tel Aviv, and after many auditions I was admitted to the school. After 4 years, my professors told me I had become one of the best dancers of the school.
I was only 14 at the time. It was not easy to leave my parents house, and move from a small city to Tel Aviv by myself. I didn't know anybody, in 4 years I had to change accommodations 6 times, it was not easy to settle. I really missed my parents… and I didn't know anything about dancing. The other kids in the school already had some dance background, but I started the training from scratch.. It was my passion for dancing that somehow kept me going.
What did happen when you finished the school?
I became a professional dancer, I started to develop my own special style of dance where I connect to my roots, like an ethnic dance. When I'm on stage I connect my body and my soul and express it with raw physical power intended to transmit subtle messages to move the hearts and souls of the audience. I just want to connect with them at the deepest level through my art, and I have noticed that whenever I give all of myself in a performance, I can touch the audience's heart. I guess that's my special gift.
I worked with different dance companies and with time my name got bigger, and in the end my fame and reputation helped those companies play to bigger audiences and attract bigger crowds. I was the lead soloist dancer at every show and performance and all the shows were very successful. I have been told by many of my directors and peers that I have the ability to make everyone to perform better.
What does it take to be a professional dancer?
You need to practice every day with total dedication, at least eight hours of ballet, modern dance, Pilates, end etc. You go to gym, you do rehearsals. You need to be disciplined about your sleeping regime and diet. You have to know exactly what to eat and when. This is the only way to get ahead in an art that requires such a high level of both physicality and mentally to perform the art at the highest levels.
You need to have great respect and awareness of your space and others, in order to understand how to work with a group in perfect and fluid coordination. You have a high responsibility towards yourself and the others in the group. You also have to be able to deal with hard times… for example when an injury comes, or you feel sick yet you have to perform. I think in general, you just need to be a strong person. You need to be very committed. You don't dance for the money, you do it for pure love for dance and art.
What is the best thing about being a dancer?
For me, the most amazing thing is to have the ability to touch millions and millions of hearts, and to be able to talk to people through movement; you have the opportunity to use your entire body and soul as an expressive tool, in order to transcend our human limitations and enter into a space of higher existence. A transcendent space where I can share feelings, and tell a story all through my body and dancing, without speaking a word.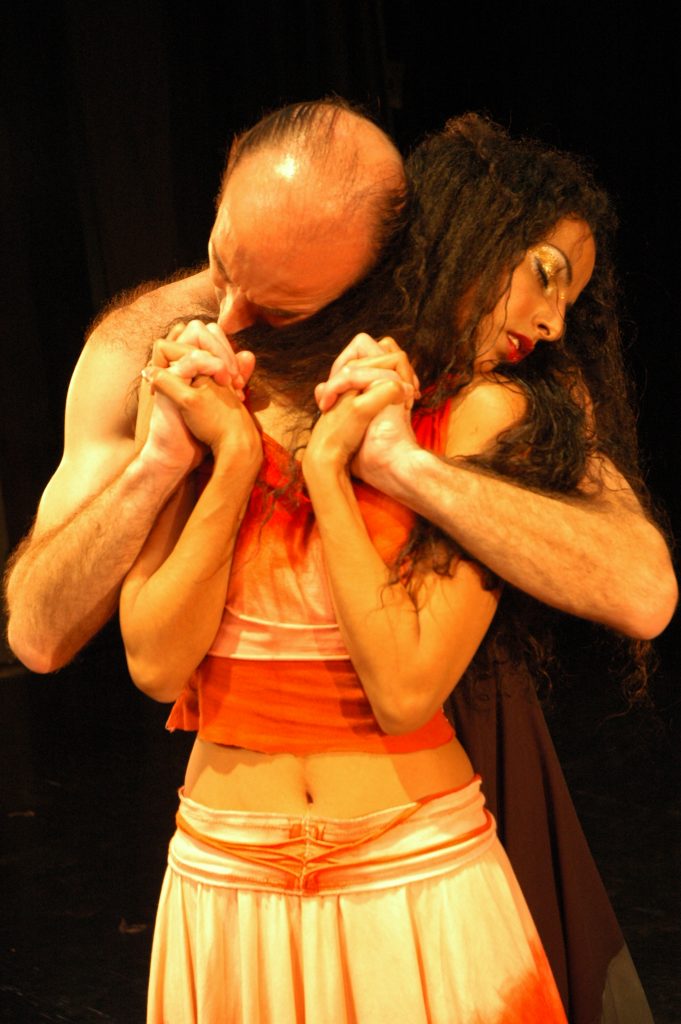 What is your plan for the future?
My plan is of course to continue to work with Keshet Chaim Dance Ensemble, the company that brought me to the States, and continue to dance and sharing with audiences for many years to come. Currently I am part of an amazing and very high level professional dance company called Keshet Haim. They brought me from Israel to perform here, in Los Angeles, and I am currently working on renewing and making new pieces for the company, and promote and help to succeed through my ethnic, modern dance style. Despite some of the difficulties due to COVID-19 a few years ago, we have been performing with the company all over the United States, giving contemporary ethnic dance workshops, and doing many successful activities across the country. Dance is my passion and my life's work, and I am looking forward to producing many new original dance pieces for worldwide tours, and to be able to produce my magnum opus of my career sometime over the next decade.
Likewise, I really love choreographing and teaching children who have difficulties in life, children who have been hurt by their parents, or victims of unfortunate circumstances. I worked with children like this in Israel, and sometime over the next few years, I want to start a program that offers young souls the ability to have a better life and to express themselves through the art of dance.