Bryan Bonilla is a celebrity makeup artist, hairstylist and beauty educator. He was inspired by beauty pageants as a child and today he is the official makeup director of Universal Woman – he was the official hairstylist and makeup artist of Miss Universe 2020 and 2021. He tells the story of how his childhood dreambecame a thriving career. 
Where and how did your career start?
I had a passion for beauty from a very early age. I still remember when I was about 8 years old I saw Miss Universe on TV in Colombia, where I am from. It was a very late show for a kid, I think it was around 2 am, but I couldn't stop watching it. I was blown away by the glamor. The girls were so beautiful and the show was like a dream. Those beauty queens gave me a lifetime of inspiration. I just knew from that day forth that working in the beauty industry would be my life path.
I was only 14 when I got the opportunity to study at a beauty academy. I moved from my home town, Boyaca, to the capital of Colombia, Bogota. At school I learned all the basic skills I could and soon after I became assistant to a very well known and prestigious hairdresser and makeup artist. I worked very hard for him for years. When I became his right-hand man it opened doors for me for fashions shows, beauty pageants and weddings. Working with him gave me international recognition and job offers in countries like Peru, Panama and Ecuador, where I settled for a while. Then I got a life changing opportunity when I was offered work in New York City.
Is that where Miss Universe started?
I was called in to do a tryout with MUBA Cosmetics' glam team for Miss Universe, and I was selected out of 400 contestants to be part of the hair and makeup team for Miss Universe 2020 and 2021. Having the chance to do makeup for Andrea Meza, who won the crown for Mexico in 2020, was an incredible breakthrough. It gave me recognition in the beauty world. I believe that getting the opportunity to be part of a prestigious event like Miss Universe as a Latin immigrant is the biggest accomplishment of my life. 
How did you deal with sudden success?
Success is not a moment, and certainly not sudden; it is the result of consistent, hard work. The beauty industry is a very competitive world but if you have passion and are ready to work hard, you can succeed. You cannot do this for the money! In the beginning I was struggling with my finances, I didn't even have money to buy the most basic necessary tools. But somehow in the end I always got a job where I could prove my talent and it kept me going even in hard times. It takes time to work your way up to a level where you get paid well. Just always stay humble and work no matter what.
What do you like most about being in the beauty world?
I love what I do and I love what comes with it… meeting amazing people, being a part of incredible events and environments, working with beauty queens, and when I work with women who are not beauty queens, I enjoy making them feel like beauty queens. People are grateful when you make them feel beautiful and I am grateful that I can work with them.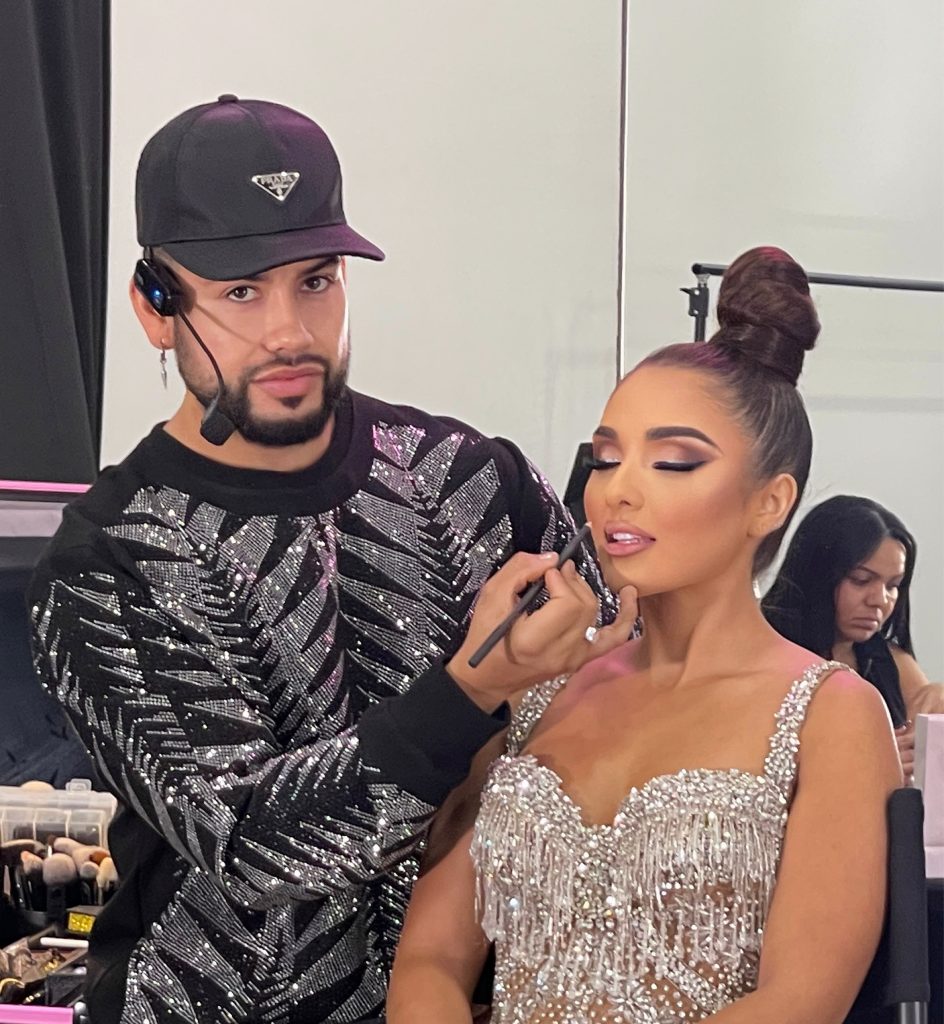 What is next?
I don't have goals… I don't like using the word – goal. I just keep working and take the opportunities that come to me. Sometimes it is hard because I would like to spend more time with my family but I love my job and I feel so lucky to be where I am now… And also I want to give something back. I am working on setting up a foundation for young people in Latin America who would like to learn beauty but they have no money or they live in difficult circumstances. I hope that one day I can help those people to work on their talents and get the opportunity to work. 
If you'd like to learn glam makeup from Bryan come to Los Angeles March 24 & 25! He will do 2 one-day workshops teaching two glam makeup looks per day!
Follow and DM to @labeautymasterclasses and @tibloom_magazine on Instagram and the first 3 followers get 25% discount from Bryan's LA workshop!